Quotes & Estimates
What are quotes and estimates? A quote is an estimate of the cost of goods or services. An estimate is a formal offer to provide goods or services at a specified price.
In Blixo quotes can easily be sent to customers. When a customer views a quote they can accept the terms of your legal agreement on Blixo. Then Blixo automatically converts the quote into an invoice that they can pay. Blixo supports different payment terms including deposits, prepaid retainers, and NET 30 arrangements.
How to Send a Quote to a Customer
To get to Quotes, you can use the Blixo Sidebar and click on the Quotes section. Once you have clicked it will bring you to a page like this one below.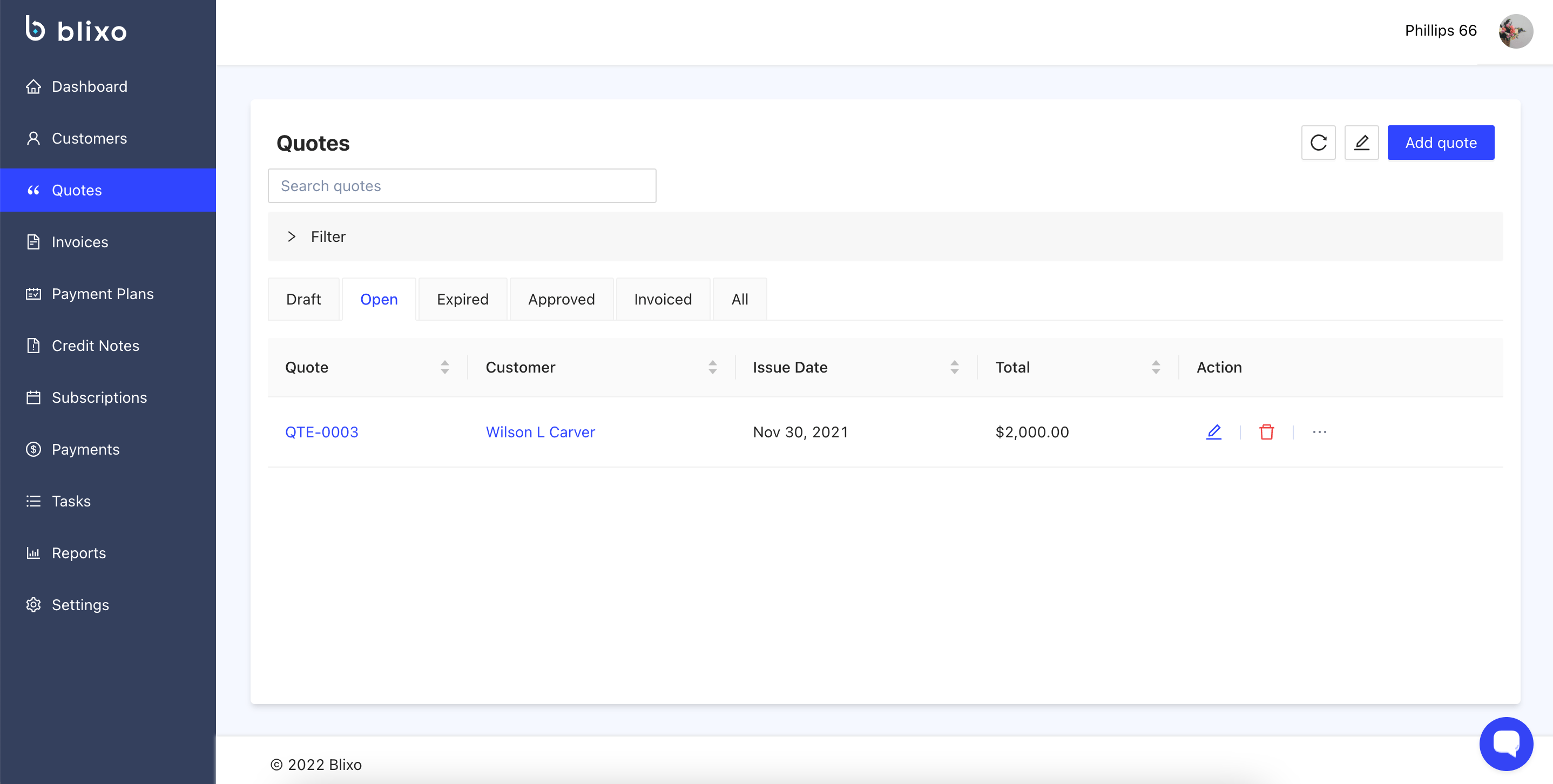 From here you can choose the blue button on the right corner "Add quote" to create a new quote.

At the top half of the page you can choose the customer, add an ID if one is associated with the customer, set the date, expiration date, and if the customer gave a deposit that can also be entered here, and there is a section to enter contract terms if needed. There is a "Ship to" option if the ship to address is different from the billing address.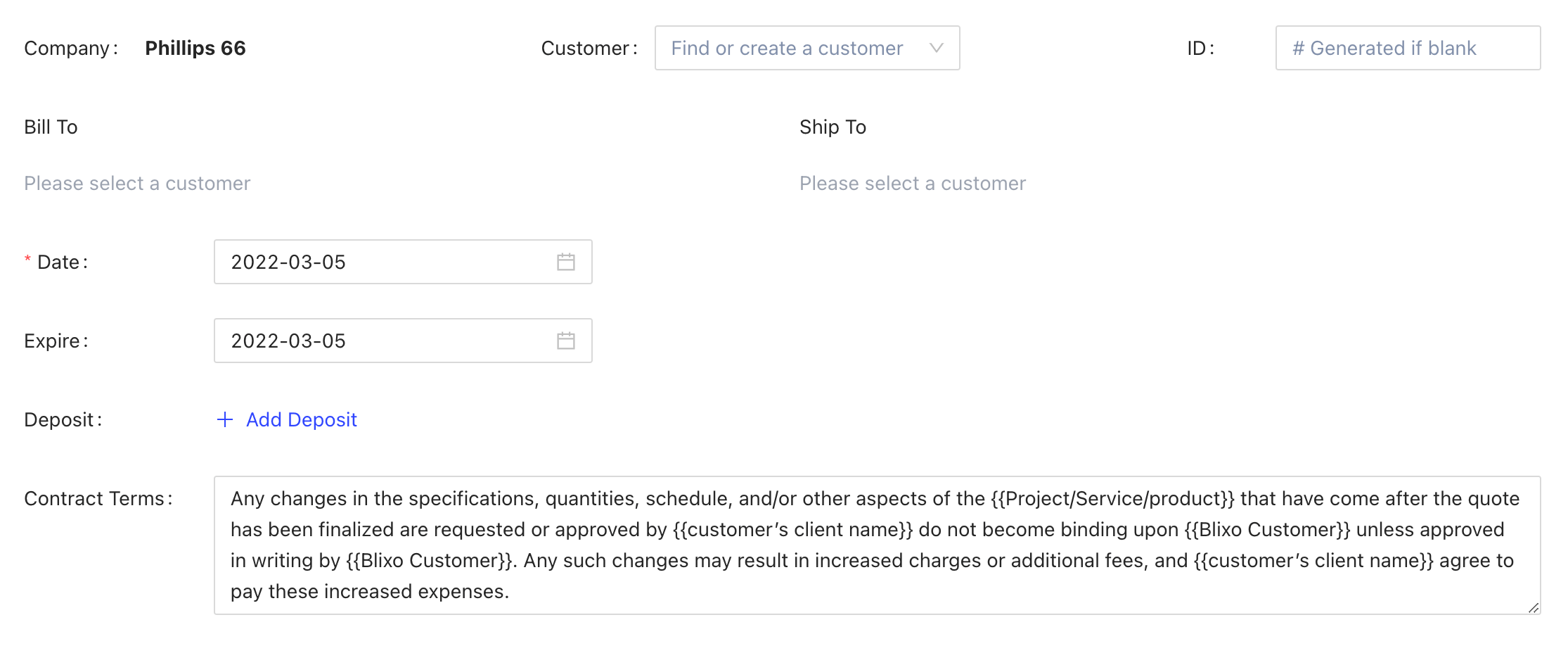 On the bottom half you can
Here you can fill out information for:
Company (should be already filled out)
Customer (list of customers will be populated from names in Costumes)
ID (optional, add an id number or one will automatically be generated)
Bill To (customer's name and mailing info)
Ship To (customer's name and mailing info)
Date (set date of invoice creation)

Next area is Line Items
Here you can add items / services , quantity and cost, and you can also categorize them into sections
Line Items: Items
Qty
Rate
Amount

You can add items and rate by clicking on the corresponding buttons: Item or Section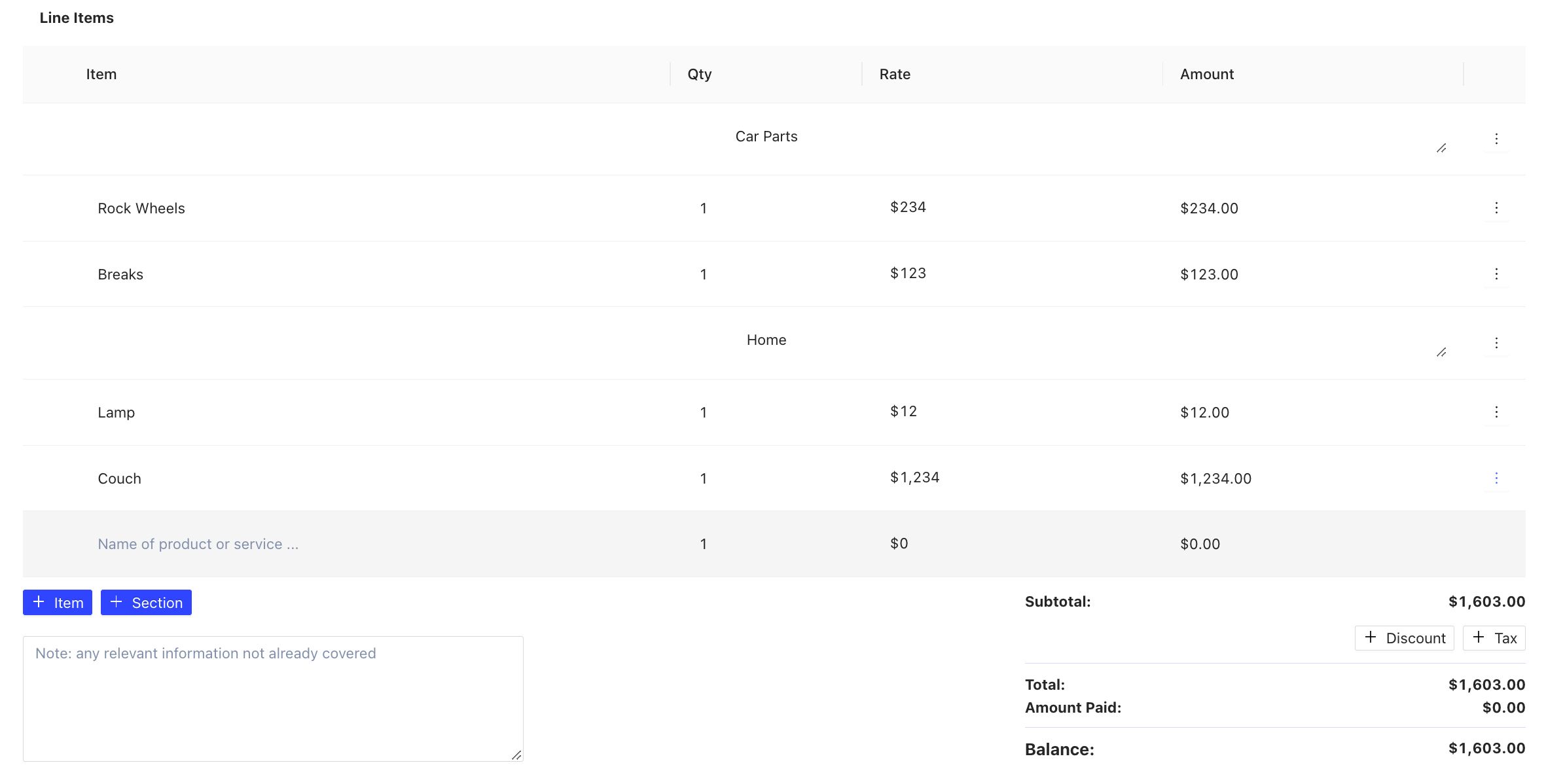 Once you done with the line items you can then add tax and discounts, as well as add any attachments ,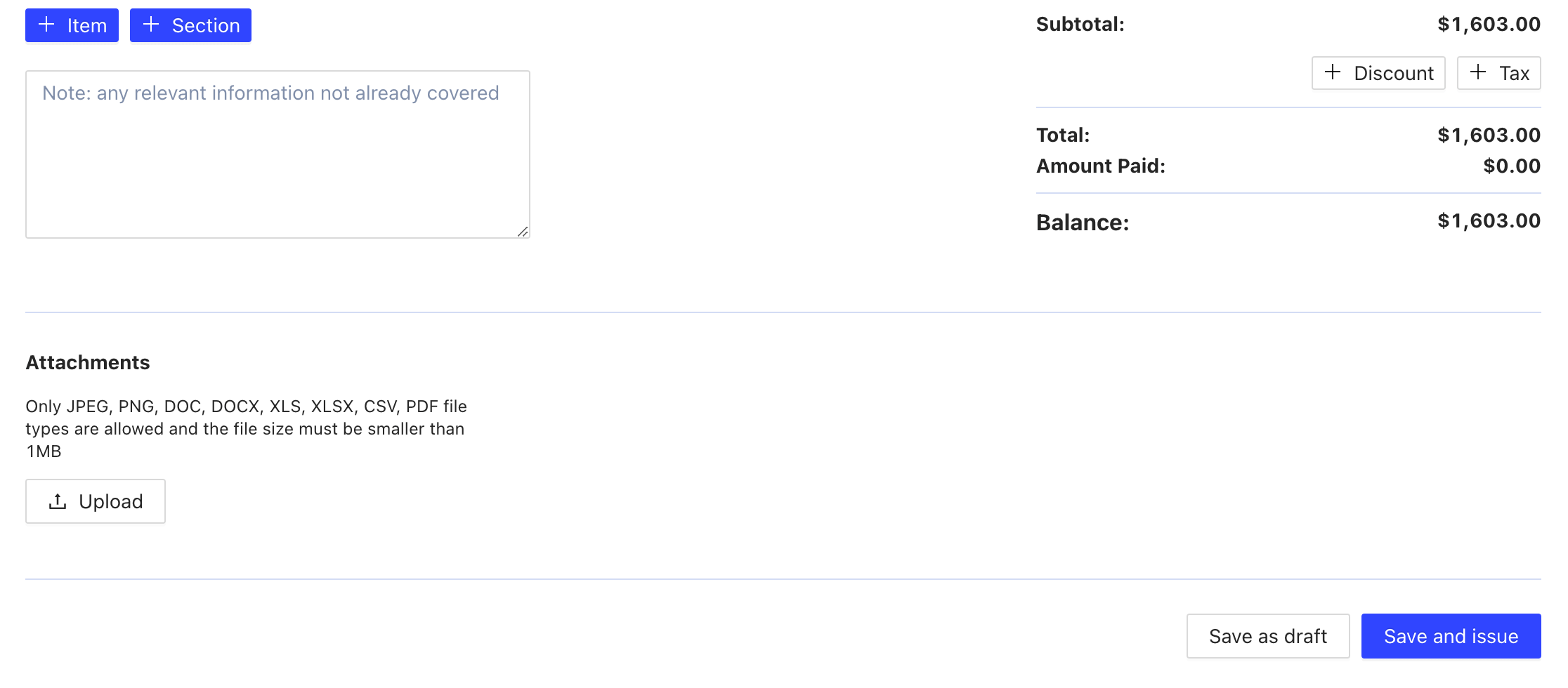 After you are done don't forget to Save as draft or Save and issue as send to customer
How to Manage, View, and Edit Quote Details
Once you save, you will be brought to this page, Here you can see the information you entered for the quote and check the status of the quote as well.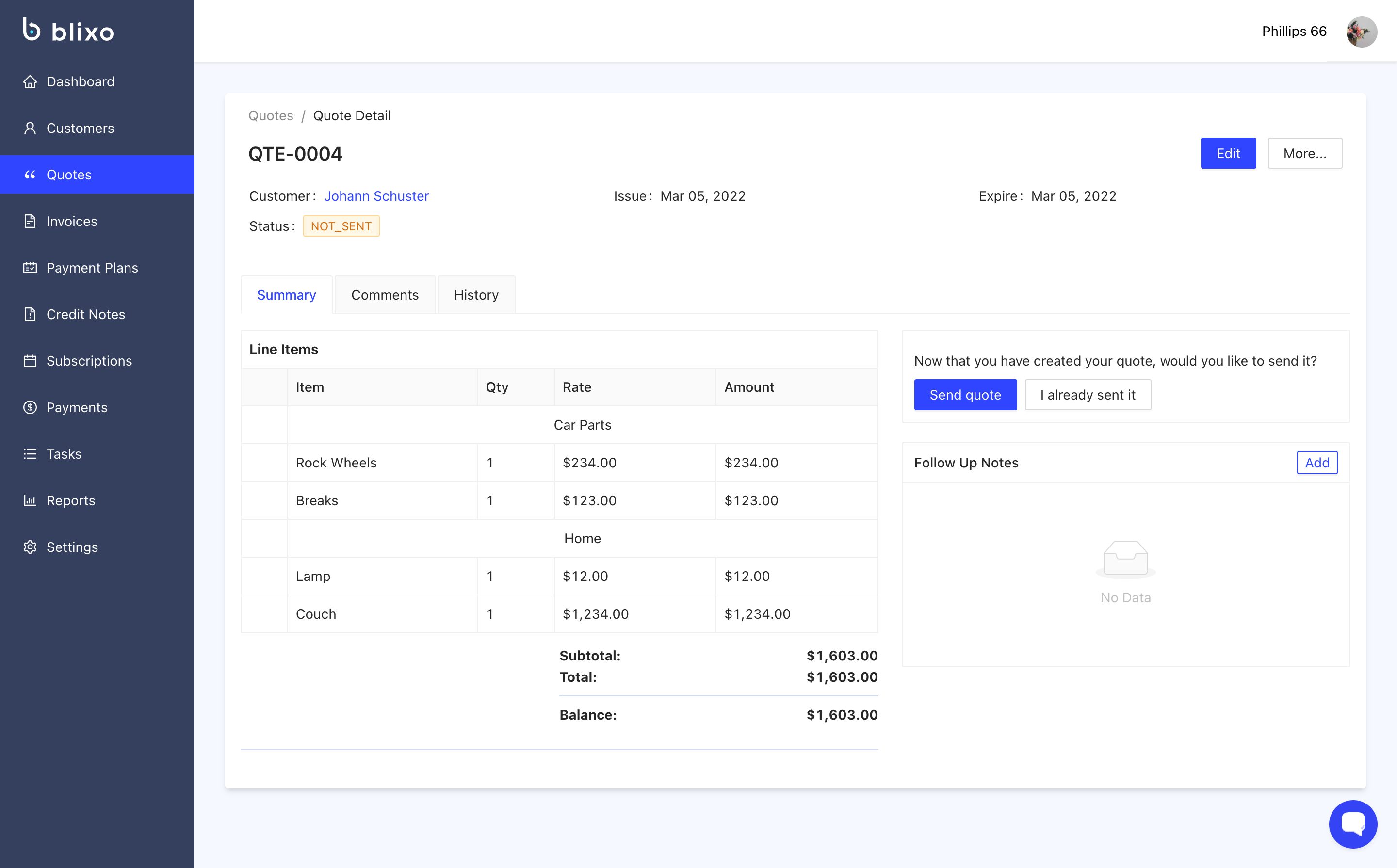 On the top right corner,Here you have an option to edit what you just created or you can click on more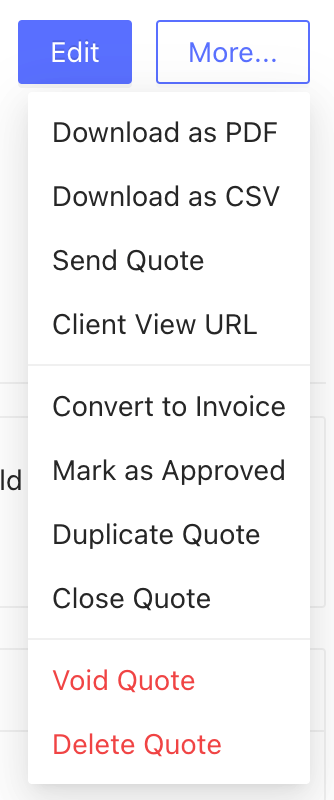 You will then be given the option to Download the Quote as a PDF, or a CSV file. You can choose the send button to send the quote, View the quote as the client would see it, Convert it to an Invoice, Approve the quote, Duplicate the quote, close the quote, and void or delete the quote.
How to Email a Quote to a Customer
Another option from this page is. To send the quote if you have not already or sent a reminder.

How to Add Notes to a Quote
You can also add a note: Another section are the tabs


Summary is the page we have been looking at.
How to Add Comments to a Quotes
Comments will allow you to leave comments on this specific quote.

How to View the Edit History of a Quote
And under History: you will be able to see the edit history of the quote Another section are the tabs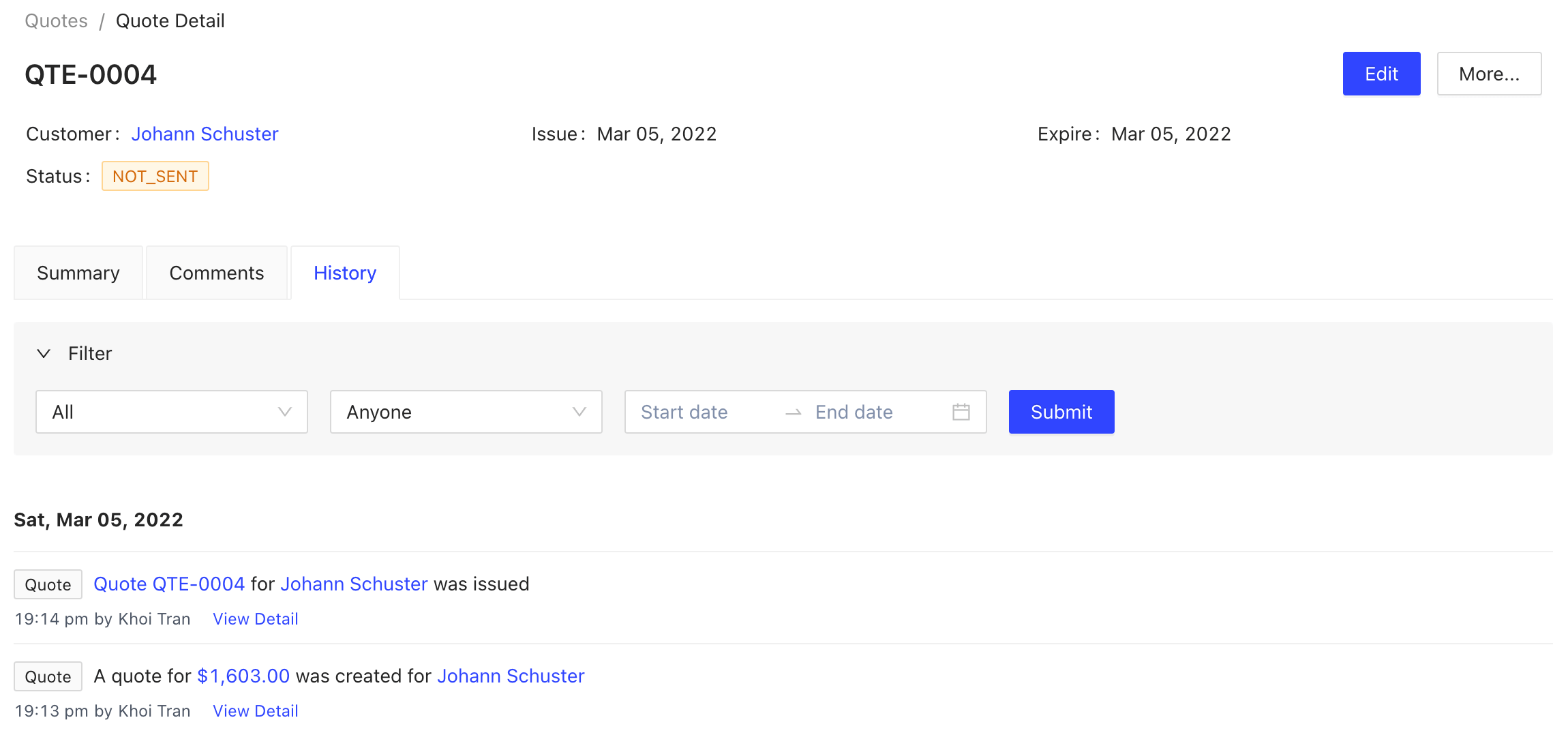 And those are the steps to add a quote.
Once you return to the Quotes main page you will be able to click the pencil icon to edit what is displayed, the circular icon is to refresh the page.
How to View and Manage Quotes
And finally, you can see these tabs:


Depending on the status of the quote, they will be listed under the respective tabs:
Draft, Issued, Expired, Approved, Invoiced, and All.